Check-list for international students
Blog — 4.10.2021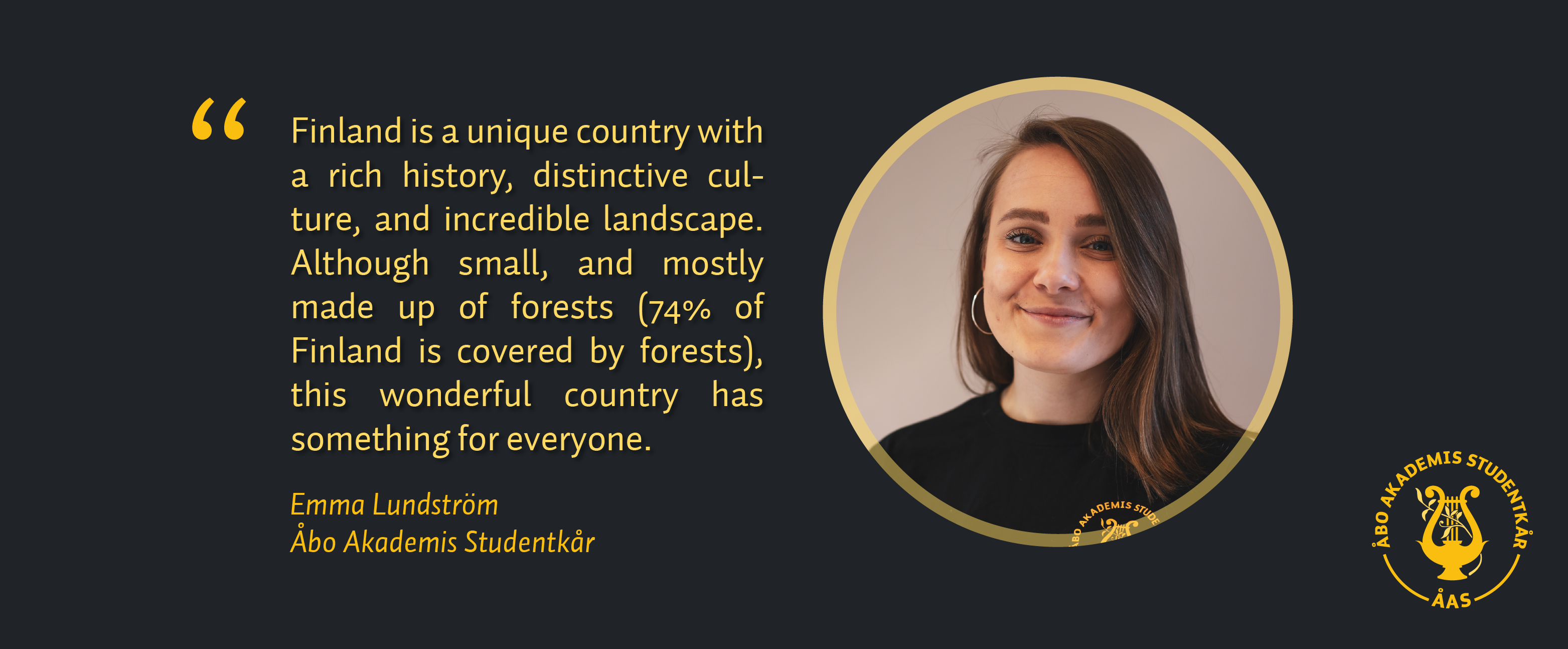 First, I would like to wish both old and new international students of Åbo Akademi University (ÅAU) a warm welcome. It is fantastic to see that all of you have taken an interest in our university, as well as Finland overall. My name is Emma Lundström, and I am a Member of the Board of the Student Union of ÅAU. Included among my various responsibilities as a board member are international affairs. This means that I am your contact individual from the Student Union regarding all matters, whether large or small.
Finland is a unique country with a rich history, distinctive culture, and incredible landscape. Although small, and mostly made up of forests (74% of Finland is covered by forests), this wonderful country has something for everyone. To help you get started in discovering everything Finland has to offer, I have compiled a list of some of the more noteworthy sights and sounds that can be found in both Åbo and Vasa.
Åbo:
Located in Turku Harbor on the banks of the Aura River and surrounded by a lovely park is Turku Castle. Built by the Swedes over 700 years ago, the castle offers a glimpse into how life was in Finland in the 13th century. You can receive a student discount upon admission, which means entry costs only 7 euros. A quick tip, a lot of attractions in Finland offer student discounts, so it never hurts to ask! Guided tours are also available and they can be booked here.
If history is your thing, Turku Cathedral is a must see. Also located on the banks of the Aura River and surrounded by Cathedral Square, the church overlooks the university, so you can't miss it. The cathedral is from the 13th century and was originally built completely out of wood. Sadly, the cathedral was badly damaged in the Great Fire of Turku in 1827 and has been rebuilt since then.
If history is not your thing, or you just want a break from the city, Ruissalo has what you need. Located a short drive or bike ride from the city center, Ruissalo has multiple nature paths, scenic views of the archipelago, a botanical garden, and even a beach! If you time it right, you can catch a great view of the Viking Line ferry as it makes its way to Sweden. Quite the site! Another way to get to Ruissalo is to hop on the bus. Regardless of where you are trying to go, chances are a bus gets you pretty close. Timetables and more information can be found here.
As I mentioned earlier, the Aura River runs right through the city and offers various attractions of its own. Scenic views which make it perfect for a stroll. Alongside the river are numerous restaurants which offer something for everyone, including a taste of Finnish cuisine. There are also coffee shops and ice cream stands, as well as restaurant boats which offer a unique dining experience.
Vasa:
If you are studying in Vasa, or happen to be visiting, the Ruins of Vasa are a must see. The ruins can be dated back to the early 14th century, but were destroyed in the fire of 1852. The ruins are located in an area known as Old Vasa, which offers various experiences. One such is the Museum of Old Vasa. More info about the museum can be found here.
Another majestic sightseeing destination in Vasa is Replot Bridge. The bridge is the longest in Finland and spans over 1 kilometer! At its highest point, the bridge is over 82,5 meters above the sea. You can enjoy the breathtaking views with a car. However, if you are feeling daring and adventurous, why not bike? The bridge is located just 15 minutes outside of the city center after all.
When visiting Vasa, you should take a short drive out to the Kvarken archipelago. It is listed as a UNESCO world heritage site. You can spend a few hours or a few days here depending on the adventurer in you. There are various things to do in the archipelago. Among them include booking a fishing trip, hiking along a nature trail with breathtaking views, or tasting freshly caught fish in a one of the many nice restaurants.
I have now given you a few tips about what to do in both Åbo and Vasa. These are just ideas and by no means is this list comprehensive. There is so much more to discover in both of these great cities, and I challenge you to do just that! Try something new and fill your time here with experiences and memories that will last you a lifetime! Listed below are a few of the things I would suggest you do if you want to travel outside of Åbo or Vasa.
1. Visit the Santa Claus village in Lapland.
2. Have a picnic at Suomenlinna, located just outside of Helsinki.
3. Go skiing in Levi or Ylläs.
I want to end by again welcoming you to Finland, and more specifically to ÅAU! I hope you have an amazing time here and I wish you all the best in your studies. Stay safe, and I am sure I will see some of you around on campus, and I hope to see all of you online when we arrange events for the international students. Feel free to reach out with any issues, concerns, suggestions, or other matters. Remember, I work for all of you!
Emma Lundström, Board Member
emma@studentkaren.fi